Rossland Streamkeepers
A citizen organization passionate about water and the protection and enhancement of our creeks, wetlands and groundwater
GET INVOLVED
Mandate
 The Rossland Streamkeepers is a citizen organization passionate about water and the protection and enhancement of our creeks, wetlands and groundwater for the benefit of ecosystems, people who live in Rossland area and downstream dwellers and future generations.  Rossland Streamkeepers is a Committee of the Rossland Society for Environmental Action (RSEA) www.facebook.com/RSEArossland
Our Pitch
Have you ever wondered where the source of Trail, Topping, Hanna and Murphy creeks originate from and the journey they take to the Columbia River? Are you the type of person who loves to spend time near water and excite your senses with sounds and colours of flowing streams? If you are like many Canadians who regard water as the most precious resource then join up with the Rossland Streamkeepers and participate in a discovery of the creeks that support life in your home and playground. We are looking for volunteers and also for stories, facts and points of interest on our creeks.
Rossland Streamkeepers is a not for profit organization with programs supported by the Rossland Society for Environmental Action.
Facts for Trail Creek Watershed
What we do
The Rossland Streamkeepers are responsible citizens who work collectively to achieve the following goals;
Foster cooperation and collaboration among all groups involved in watershed stewardship;
Enable better understanding and protection of our aquatic resources in a changing climate;
Build capacity for watershed enhancement projects;
Acquire and generate information and data for the management of aquatic resources and provide input into land-use planning and development decisions.
Project 1.
Trail Creek Flow Monitoring
Coordinates TCW02 Station:  N 49 04.405′, W-117 48.110′
TCW02 Stilling Well Flow Monitoring Station on upper Trail Creek in Rossland.
A flow monitoring station was installed on upper Trail Creek in Rossland in October 2017. The objective of the Upper Trail Creek monitoring station and program is to collect scientifically defensible water data for parameters air and water temperature, water pressure transducer (for water level) and conductivity using Onset dataloggers. Water level is observed from a staff gauge in a stilling well and flow velocity is determined seasonally using a Transparent Velocity Rod and a Pygmy spinning cup and meter for the purpose of seasonal discharge. Data has been collected since Nov 2017. The goal is to create an annual discharge curve which is useful for water level prediction and to compare Trail Creek discharge with nearby Big Sheep Creek discharge. The intentions are to data share with the Kootenay Hub Data Management System.
The Rossland Streamkeepers, in conjunction with the Rossland Society of Environmental Action (RSEA), would like to thank the generous sponsors who contributed to the purchase and install of the equipment namely the Columbia Basin Trust, FortisBC, City of Rossland, and Hinterland Surveying. Thanks to Dan Horn for his carpentry in constructing the Still Well box.
Continuous water pressure measurements were collected since March 2018 by pressure transducer dataloggers and the data normalized to water level via elevation survey. Data indicates that the 2018 freshet was higher than 2019.
Continuous water temperature (in red) and conductivity (in green) was collected from the TCW02 dataloggers since March 2018.
A Discharge Curve for upper Trail Creek was created after 2 years of measuring flow and velocity by the technique of Transparent Velocity Rod (TVR) and the Pygmy Spinning Cup/ PDV Meter. The Discharge Curve allows one to obtain discharge (flow volume per time) by simply reading the installed water level staff gauge. Two techniques of measuring velocity were used because each tool has a limitation from either too low or too high flow. This is apparent in the comparison of the two techniques where correlations between TVR and Meter determined discharge are not good at either end of water level spectrum. Another method to determine discharge, called salt dilution, has also been to corroborate discharge  results from the TVR technique. I used the method, conductivity constant and discharge equation found in UBC Professor Dan Moore's paper "Slug Injection Using Salt in Solution" https://www.uvm.edu/bwrl/lab_docs/protocols/2005_Moore_Slug_salt_dilution_gauging_volumetric_method_Streamline.pdf  
In June 2019, a discharge of 0.0288 cms  determined by the salt dilution method was close to 0.0210 cms as determined by the TVR. On April 8 2020, discharge was determined by all three techniques Velocity  Pygmy Meter PVD, TVR and salt dilution to give 0.189, 0.097 and 0.089 respectively. While TVR and Salt Dilution indicated good agreement, the Velocity Meter was high due to water level limitation.
Streamkeeper Ron Dennett takes a velocity measurement at TCW02 gauge station on April 28, 2018. Four days of sunny warm weather followed by a rain popped the Trail Creek to flood levels over 30 cm from winter lows. Velocity is measured with a Pygmy spinning cup and a PVD100 meter. Low flow, shallow conditions velocities are measured with a home-made Transparent Velocity Head Rod. Water level recordings from the gauge taken with velocity measurements during different flow conditions will be used to construct a discharge curve.
Project:
Tributary Temperature in Trail Creek Watershed
The project  "Trail Creek Watershed Tributary Temperature Monitoring" is an extension of the Trail Creek Flow Monitoring Station. It has been generously supported by FortisBC, CBT and RDKB Area"B". Nine temperature Blue-tooth enabled TidBit data loggers were deployed in tributaries of Trail Creek Watershed in March 2019. The objective is to determine seasonal temperatures in the tributary creeks. This data may lend to the interpretation of creek source, whether a tributary creek is ephemeral or gets too warm to support fish habitat.  Tidbits were deployed in each of the following creeks prior to outflow into Trail Creek: Centennial, Falaise Adit, Golpher, Cemetery, Tiger, Milkranch, Cambridge, Warfield (unknown name), and Haley (see map for locations). Continuous temperature data will be uploaded seasonally and comparisons will be made over a 5 year period.
Water Temperature Graphs
HOBO Tidbit Temperature dataloggers were programmed to record the temperature (every 8 hours) of each tributary creek. They were placed in each tributary (see map) in March 2019 and the data uploaded in November 2019. This represents a full cycle of seasonal temperatures.
The main observations from data collected by the HOBO Tidbit Temperature dataloggers are:
1. The constant temperature range of Falaise and Haley creeks suggest they are groundwater source. Falaise flows from mine tunnels tied to Red Mountain; Haley flows from the toe of Teck Fertilizer Plant and Landfill. Warfield Creek dives underground in upper Warfield and empties from a culvert into Trail Creek.
2. Golpher,  Milkranch and Cementary Creeks went dry in August. When creeks go dry the datalogger records the air temperature. You will see spikes to 20 C and dips below 0 C. The datalogger in Milkranch disappeared in July (some data lost) and was replaced in September.
3. The flow and temperature profile in Tiger and Cambridge creeks closely resembles Topping Creek. Cambridge Creek runs from a lake. As Trout have been observed in both Tiger and Cambridge creeks, it is important that the summertime temperature does not get too warm. Maximum temperature in the summer did not exceed 16 C.
Project
Water Quality Chem Detective
Part 1 of the Know Your Watershed Course presented to Science Grade 9 students at the Rossland Seven Summit School involved chemical water test screening of 6 stream samples collected within the Trail Creek Watershed. The students found that three samples collected from tributaries Falaise Creek, Warfield Creek and Haley Creek, had higher values for conductivity and phosphate as compared to the main stem Trail Creek. The students wanted to know why. Thanks to funding from FortisBC and RDKB Area B, the students will complete Part 2 in May 2020 which involves submitting water samples to a professional water testing laboratory. The water quality testing would be a first in the area and the results will be shared with the Rossland Streamkeepers.
The cost of the laboratory testing was generously funded by Area B Regional District Kootenay Boundary and FortisBC.
A one-day flow monitoring course 101 was developed by the Rossland Streamkeepers. The course provides students with hydrology basics and to learn different techniques to measure creek flow and use their data to determine discharge.
Students from 7 Summit Centre for Learning take their classroom tools and learning to the field. Rossland Streamkeepers teamed up with Instructor Jonathon Colehill class to measure the three most important factors of Trail Creek discharge: slope, channel area and velocity. Students peak inside the still-well to read the water level staff gauge. It was rainy and the creek was on the rise. Wet but happy.
Know Your Watershed
WildSight Course
Bill Coedy, a Know Your Watershed Educator with Wildsight, collaborated with J.L.Crowe Grade 12 Environmental Science teacher Kyle Percy in Nov 2020. They devised a two part lab plan that utilized both chemical screening tests and biological assessment of benthic invertebrates on local stream water samples. In Part 1, students compared test results to assess water quality and used a watershed model to locate stream source and influencing environmental factors. In Part 2, students used a benthic taxonomy key to identify tolerant and intolerant invertebrates and record their diversity and abundance to assess a streams health.
Bill Coedy of Rossland Streamkeepers was contracted by WildSight to deliver the CBT sponsored Know Your Watershed program to Grade 9 classes in Rossland and Trail for the 2019/20 year. The program is free but transportation costs (tour or field) are the responsibility of the school. Students learn about where their water comes from, how it is treated, how our wastewater is treated, storm drains, assessing water quality stream health by physical, chemical and biological testing. A tour of the water treatment plants, and field trip to a creek is part of the out of class experience. 
Grade 9 Crowe K. Percy class: At the Rossland Drinking Water Treatment Sand Filter Plant. Operator Joseph Hopkins explains how the water from Star Centre Gulch Reservoir is sand filtered prior to chlorine treatment.
Grade 9 FI/RSS B-A.Wood class:
Inside the Backwash bunker at the Trail Water Treatment Plant.
Grade 9 Crowe T.Roehrl class:
At the Trail Pollution Control Center alias sewage treatment plant.
Grade 9 Science students from JL Crowe in Trail recently executed a WildSight Student Action Program to build a model of the Oasis Wetland. Students incorporated features that would enhance the marsh for wildlife habitat and future public educational engagement.
The Streamkeepers participated in a Trail Creek field excursion with the RSS Grade 9 French Immersion class in 2019. What a fun time ! Thanks KYW Educator Megan Cornell for including us in your program. After the learning session, the students continued to play with water in Gyro Park.
In June 2019, the Streamkeepers collaborated with Wildsight KYW Instructor Megan Cornell to talk about Trail Creek Watershed. A lucky Grade 9 class from J.L. Crowe (seen here at Gyro Park) got to experience the Trail Creek first hand. Don't you wish the watershed model was a huge cake guys!
A grade 5 class from Rossland Summit School studies water temperature in the Falaise Adit Creek and discovers ecosystem life in Trail Creek.
Streamkeeper Jess Williams, of Know Your Watershed program, instructs Grade 8 students from 7 Summits Learning School to identify benthic macroinvertebrates collected from Trail Creek.
STEWARDSHIP
Educational Displays
Project 1:
3D Trail Creek Watershed Model
A portable 3D Model of the Trail Creek Watershed was fabricated from high density foamboard using a digitized topographic map and a ShopBot CNC Printer. A protective plexiglass cover was also constructed at the Midas Lab in Trail. Instructor Jason Taylor of Selkirk College was the fabrication contractor.
The model serves as an educational tool used in outreach sessions by the Rossland Streamkeepers. The model highlights important attributes of the watershed such as creek tributaries, reservoirs, riparian habitat, fish habitat, recreation areas, trails and urban development. The model was funded by RDKB Area B and FWCP. It resides at the RDKB Planning office in Trail.
Project  2:
Trail Creek Interpretative Signs
Trail Creek is rich in history and has been modified over the past 125 years by industrial activity and urbanization. The communities of Rossland, Warfield, Annabel and Trail are interconnected by the pathway of water flowing from Red Mountain to the Columbia River. A series of seven interpretative signs have been designed and installed to inform the general public about the features and history of Trail Creek and its riparian ecosystem. The content of the signs is a mixture of archive photos and text based on historical information and watershed facts and points of interest. Archive photos were gifted from the Trail Museum and purchased from the Columbia Basin Institute (Rossland Museum and Discovery Centre). Interior Signs was contracted to design and produce the 20"x 30" signs on alumpanel. Layout and text of the signs was reviewed by funders and local community governments. Mofab in Rossland was contracted to fabricate the mounting structure using 3/8" angle iron. Rossland Streamkeepers painted the stands and installed the signs at strategic locations along the Trail Creek.  This project has received funding support from Teck, CBT, RDKB Area B, Columbia Power, Morrow BioScience Ltd and FWCP. In-kind support was received from the Village of Warfield and the City of Rossland. Rossland Streamkeepers received approvals for sign locations from the City of Trail, Village of Warfield, FrontCounter BC and the City of Rossland. The location of signs along the Trail Creek riparian are indicated by the following map:
Linda Worley, Director Area B RDKB, likes the interpretative signs project and the idea that they will be placed along our precious water source and historical pathway. "The designs are well thought out and very viewer friendly, while being informative". Director Worley supports the efforts made by the Streamkeepers to provide outreach sessions to inform all recreation users and especially youth. "We must all, going forward continue the ongoing protection of this environmental gift".
Project 3
3D Model of Cambridge – Violin Water System 2020
The Rossland Streamkeepers have collaborated with Selkirk College/ Midas Lab to once again fabricate a 3D portable model. This time it is of the Cambridge Reservoir and Violin Lake area. Rossland Streamkeepers are working with the City of Trail on a public outreach educational session to present the City's preliminary design plan to decommission the Cambridge Reservoir dam and restore the wetland of the area. The model rests with the City of Trail until outreach plans can be finalized. 
Sept 2020 Cambridge-Violin Lake 3D Model Underway
The Rossland Streamkeepers have started a new project with Selkirk College/Midas Lab. A 3D model of the Cambridge Reservoir and Violin Lake area has been fabricated and is in the process of colour rendition to mirror land use and what a future recreational site might look like.
The City of Trail is in the process of sharing a preliminary design plan to decommission the Cambridge Reservoir dam with stakeholders (governments, land owners, water rights, First Nations). The results of the interaction will assist the City in finalizing the Preliminary Design Plan which is phase 1 of the decommissioning and restoration of the Cambridge reservoir. The City has been working with partner BCWF and the Rossland Streamkeepers. The 3D model will be used with the Design Plan to engage the public on feedback for best use of the area after dam decommissioning.
The model was generously funded by the CIP/CBT Trail, Warfield and Rossland and the RDKB Area B.
Looking for Young Water Leaders May 2020
Past Know Your Watershed Educator Megan Cornall, has been working with Waterlution, and developing the
Water Innovation Lab Global 
. It is an international leadership training opportunity for leaders/young professionals in the water sector (18-35 yrs), focused on two themes: coastal communities and resiliency and the water-energy-food nexus.
from Trail Times March 2020
…..Trail council has stamped its approval on a shared contribution agreement with the British Columbia Wildlife Federation (BCWF) for what is being called the Cambridge Creek and Violin Lake Decommissioning Project.
As part of first steps, at the cost of $140,000, the city has endorsed the Rossland Streamkeepers to produce a 3D model and letter of support that can be used for public engagement and grant applications.
The city's John Howes says the Rossland Streamkeepers have experience in fabricating accurate 3D watershed models, mentioning the group has worked with Selkirk College and Midas Fab Lab in the fabrication of a 3D model of the Trail Creek Watershed.
Just a side note: The project cost for dam decommissioning is $140,000 not the cost of the model!!!!!
Annoucement from Living Lakes Canada Newsletter Feb 2020
An opportunity has come up to work on a collaborative data management system intended for the Columbia Basin region. The RS  intend to volunteer streamkeeper data for water temp and level in the Trail Creek Watershed as well as other data sources for snow and water discharge.
VANCOUVER, BC — Carl Data Solutions Inc. (CSE:CRL, FSE:7C5, OTC:CDTAF) ("Carl Data"), is pleased to announce that it has signed a Master Project Agreement with Canada's Digital Technology Supercluster ("the Supercluster") to proceed with the $4.65 million Fresh Water Data Commons Project.  The budget for the project includes $2.3 million for work to be carried out by Carl Data and its wholly owned subsidiaries, Astra Smart Systems Inc. ("Astra") and i4C Innovation Inc., to expand on existing IP by building a hardware and software platform for collecting, storing, analyzing, and sharing data.  The contract is effective immediately.
Canada's Digital Technology Supercluster is a cross-industry collaboration that includes some of Canada's biggest names in healthcare, communications, natural resources, technology, and transportation.  The Supercluster supports ambitious technology development projects by co-investing in collaborative enterprises to drive innovation.
 Astra President & CEO Pilar Portela is leading the Fresh Water Data Commons consortium which includes Teck Resources Limited, Microsoft, Living Lakes Canada, the University of Victoria, and Genome BC. The project will develop a robust private-public water monitoring platform in the Columbia Basin in southeastern British Columbia, Canada.
 The platform and the technology developed for the Fresh Water Data Commons will offer a technological tool to help every part of Canada, and the world, use data to protect water, people, ecosystems and the economy. As the demand for fresh water continues to rise, there will be an ongoing global need for water monitoring to balance the needs of industry and citizens, while also generating data for environmental studies to examine the genetic health and biodiversity of the environment and the impacts of climate change.
 For more info: https://www.carlsolutions.com/investors/news-releases/430
From Wilsight May Update (May 30,2020)
DANGEROUS WATERS & EMPTY PROMISES: TECK'S FORDING COAL MINE EXPANSION
Just downstream of Teck's 50-square-kilometre Fording River coal mine, cutthroat trout swim in heavily polluted waters. This isolated population of trout, federally listed as a species at risk, recently collapsed, with more than 90% of adult fish gone in just two years. Now, Teck has applied to expand the Fording River mine onto Castle Mountain, adding more than 25 square kilometres of mountain-top removal mining over the next few decades—and thousands of years of water pollution to a river that is already on the brink.
BC's Environmental Assessment process for the mine has begun, but if we've learned anything over the past decade in the Elk Valley, it's that when Teck wants something, BC gives it to them. When Teck wanted to expand the nearby Line Creek mine, the Ministry of Environment said they couldn't issue the permit because of water pollution and the threat to fish—and BC's cabinet overruled staff and issued the permit anyways.1. For years, Teck has polluted well above their limits, which are already far beyond pollution levels considered safe for fish—and BC hasn't made any moves to enforce those limits. Last year, Teck released a long-term plan announcing they will continue to pollute above limits for years—and BC still did nothing. 2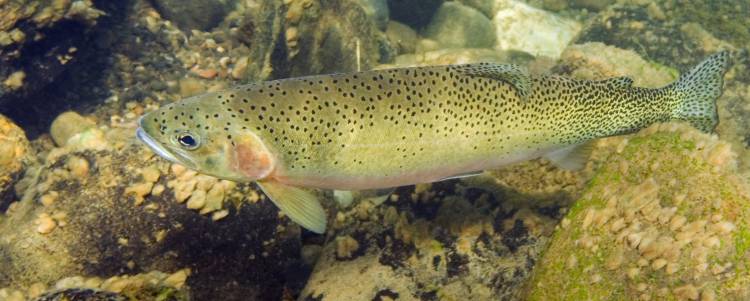 This time, BC needs to hear loud and clear that more of the same—more pollution, more dead fish and more empty promises—is more than our rivers and fish can bear. Fortunately, the new provincial environmental assessment process now allows for more public input. Your first opportunities to be heard are by making a comment on the Environmental Assessment of the project.
The Fording River mine, the largest of Teck's Elk Valley coal mines, sits right on top of the upper Fording River. The highest levels of water pollution found in the Elk Valley are found just downstream of the Fording River mine. Castle Mountain, which is right beside the existing mine, would only add more water pollution to this same stretch of river, putting fish in danger not just in the Fording River, but also downstream in the Elk River and even in Lake Koocanusa. Despite all the rosy press releases and statements from Teck, the facts on the ground are simple: more mining means more waste rock piles, more waste rock piles means more water pollution, leaching from the rock for thousands of years.
Teck attempted to use water treatment plants but ran into difficulties that has delayed their construction for years, and the technology proved very expensive. Now, Teck says that they want to use a new technology called Saturated Rocks Fills to remove selenium from water flowing out of their waste rock dumps. Even if this unproven technology works, which is an open question as most of the information about it is secret, any treatment plan that requires constant pumping, feeding and monitoring can't solve the long term water pollution problem a thousand years in the future and won't reduce calcite, nickel or any of the other long-term pollution that flows from the mines.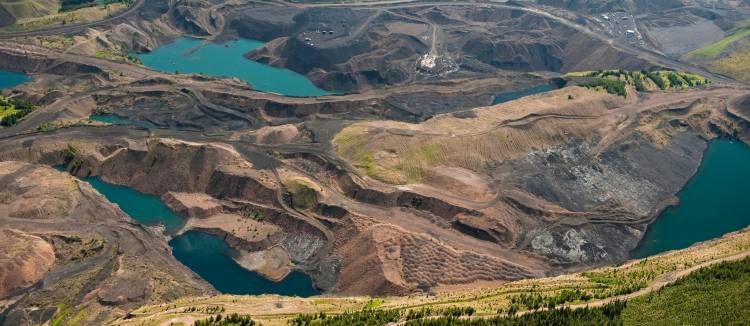 In the section of the Fording River that runs alongside the proposed Castle expansion, the isolated population of westslope cutthroat trout suffered a devastating collapse that was just discovered last fall. With 90% of the adult trout gone and a decline of more than 70% in juvenile trout, adding more pollution to the upper Fording River risks wiping these fish out, making it a sacrifice zone for the mines. With many kilometres of tributaries of the Fording River already sacrificed to the mines, rivers and streams that are poisoned for thousands of years are not just a risk in the Elk Valley, they are already the reality.
Water pollution from the Castle mine expansion will flow downstream into the Elk River, joining pollution from Teck's four other mines and potentially three other new mines from other companies that are also in the Environmental Assessment process. All of this water pollution combined together is dangerous for fish not just in the Elk River, but also in the border-spanning Koocanusa Reservoir, where the still water of the large reservoir allows selenium to build up in sediments and the food chain, and downstream in the Kootenai River, threatening fish from the smallest minnows all the way up to the huge endangered white sturgeon. Water pollution in Koocanusa Reservoir is the source of growing conflict between BC and the US, not to mention First Nations. Our own clean water and fish are reason enough to stop Teck from adding more long-term water pollution to the watershed, but we should also be good neighbours and at least stop increasing the amount of water pollution we send across the border.
The Castle mine expansion wouldn't just pollute our rivers and kill fish, it would also destroy a large area of endangered high-elevation grasslands in the Rocky Mountains, the winter home for bighorn sheep.
It's time to say no to any new coal mines and major mine expansions in the Elk Valley. Trout in the Fording River have been decimated and fish further downstream could soon be next. Despite years of research, Teck is no closer to a real solution that will stop water pollution for thousands of years. Adding a few more decades of coal mining is just going to add more and more water pollution to our already heavily polluted rivers. Teck and BC have dug themselves into a big hole in the Elk Valley. It's time to stop digging.
June 15 2020
Extracted from the YSI blog with Dr. Tracy Fanara with the Mote Marine Lab in Florida.
Q: Can you speak to why you believe citizen science is so important, and how you inspire people to think of themselves as scientists?
Tracy: Absolutely! Citizen science is extremely important. Here's why! Most of us learn from doing, not just listening or reading. This is called kinesthetic learning—taking part in an activity and learning through experience.
So, when we give the public a voice and allow them to roll up their sleeves and get their hands dirty with citizen science, we are slowly enhancing their scientific literacy—their understanding of scientific principles.
See, of course we want more scientists and engineers in the world, but the truth is… we need more lawyers, business owners, salespeople, and politicians—whatever walks of life, whatever career path—to have a higher scientific literacy so they make more environmentally conscious decisions throughout their life.
That's where change happens. Anyone can be a scientist or an engineer with some passion, hard work, and the right teacher. And citizen science can inspire people—especially kids—to change the course of their future, just by getting involved in their community.
Passer by reads history of changes to the Trail Creek mouth on the newly installed Trail Creek Interpretative sign titled "Stream-lined". Another sign titled "Flood of '69" is installed at the Gulch Park. Other signs will be installed along the creek within the year.
A picture of a foaming Trail Creek was taken in mid August by a citizen of Rossland. The picture and question why? was posted in Bhubble. Could it have originated from the storm water sewer?
A new road has been pushed through the woods between Mann and Richie Roads. An adjacent land owner is concerned that the road has impacted the riparian zone of Topping Creek.
The Streamkeepers did a creek trace during very low water and flow in Oct 2019. Trail Creek passes through 3 historic tunnels built for the ore tram cars. The tunnels can be seen at the Tiger Switchback on the Rail Grade just downstream from the Redstone Golf Course. 
Stewardship
Public Outreach
The Streamkeeper Show & Tell road show was held during Jan and Feb of 2019. It started at the Rossland Library during Winter Carnival and then moved across the street to the Credit Union. 
The show then moved downstream to the Visac Gallery to speak to the Trail Rotary. Thanks for the free  lunch guys! In the foreground of the pic is the first of seven interpretative signs for the Trail Creek called "Stream-lined". 
The Rossland Streamkeepers continued the Show&Tell road show to the Senior Centre in Trail on Feb 19. The Lower Columbia Unitarian Chapter extended an invitation to the Streamkeepers to share findings and displays on the Trail Creek Watershed. The theme and meditation of their gathering was based on the importance of water. The LC Unitarians acknowledged that the gathering took place on the traditional unceded territory of the Ktunaxa, Syilx and Sinixt indigenous peoples. Thank you for your support of the Trail Creek Watershed streamkeeper program. 
The Streamkeepers were invited by the Rossland Rotary to speak about their programs at the Rock Cut at the end of May. Thanks Mic ! Always happy to discuss new ideas with a receptive audience.